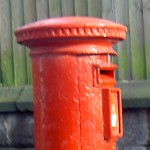 iFreeThePostcode is an iPhone app to make submitting postcodes to freethepostcode.org really easy. You can download it from the iTunes app store or just search on the app store for "iFreeThePostcode".
To use the app simply enter the two halves of the postcode and your email address (this is required by freethepostcode.org so that they can confirm you have have not derived the location of the postcode from copyrighted sources). You will also need to wait until your accuracy goes below 50m. Once this happens, click submit and you should get a message telling you whether your submission was successful or not. You should then receive an email from freethepostcode.org containing a link that you can click on to confirm your submission.
When submitting postcodes to freethepostcode.org you should not use copyrighted sources to find the location, though this should not be an issue when using iFreeThePostcode as you will be using the iPhone's GPS. You also need to take the postcode from a non-copyrighted source. The ideal scenario is when visiting a pub or restaurant, you can take a look at their menu or ask the staff for the postcode and submit it from that. You should not use an online directory such as Google Maps or Yell.
This page will be kept up to date with the latest information on the app. It will probably receive a few updates to fix a few known bugs.
I've now released the source code of iFreeThePostcode. If you have problems with the app then let me know and I'll try to sort them out. At the moment I'm not planning on doing a new release any time soon, unless someone comes up with any major bugs.
Download iFreeThePostcode on GitHub!
Download iFreeThePostcode version 1.1 source code.
Download iFreeThePostcode version 0.1 source code.
As this is such a simple app I'm going to release the source code into the public domain without a license. Do with it what you want.