Reversing the Brain Drain
An unfortunate tweet from a friend yesterday suggesting that he might have to leave Liverpool to get a job, led to a little exchange: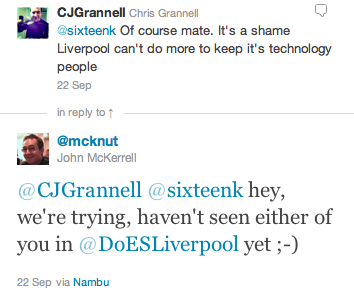 That got me to a realisation: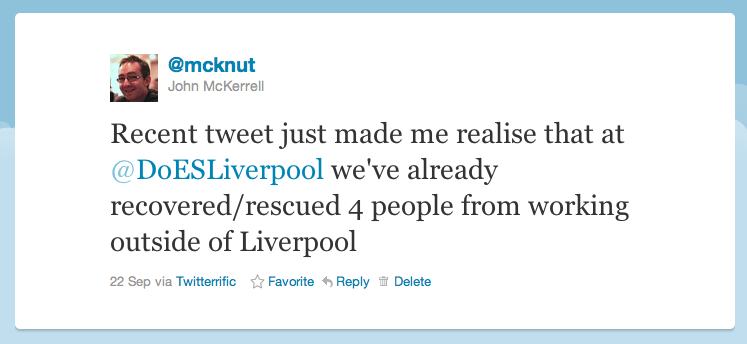 Now that comment is certainly meant to be taken as tongue in cheek, but there's some very real truth in it. To start with the more tenuous examples. Paul Freeman (@OddEssay) contracts for a company in Eccles, near Manchester. Since setting up DoES Liverpool Paul has been able to spend more time in Liverpool. Yes he's still working for a company in Eccles but he's now buying lunch from Liverpool companies and engaging with the Liverpool tech community more regularly.
Let's move onto Paul Kinlan (@Paul_Kinlan). Paul is a Developer Advocate with Google. He's based in their London office but also spends a lot of his time travelling around Europe and the world promoting Google Chrome and HTML5. His main reason for being here is to work with developers who are using Google products in the north of England, but by supporting DoES Liverpool and taking a desk with us Paul is now able to spend more time in Liverpool meaning he gets to spend more time with his family who are still based up here.
Finally we have Andy Hughes (@andyhughes86) and Andy Powell (@p0welly). They work for a company in Manchester who had offices in Stockport. Andy and Andy are both developers who worked in an office full of sales people. These were people who spent most of their time on the phone trying to make sales. Not the best environment for a pair of developers who need to get their head down and concentrate. Their company was moving into an office in Central Manchester, a smaller office in a trendier area which was going to mean Andy and Andy would either be in closer quarters with their noisier colleagues, or have to find somewhere else to work. Fortunately they came across DoES Liverpool and came in for their free hot desk day (bringing donuts!) They liked what they saw and took two permanent desks with us. Andy H lives in Runcorn, Andy P lives in New Brighton. Andy H unfortunately still has a long bus ride (but we'll come back to that) while Andy P now has a 20 minute commute! As it turns out, Andy H is now moving to Liverpool. I had a chat with him recently and asked if he was planning to move to Liverpool before they joined us at DoES Liverpool. He told me that while he really wanted to move here he had resigned himself to living in Manchester. So not only do we have two people who are regularly coming to Liverpool and supporting businesses in the city centre, we've also got someone who would have had to live elsewhere being able to live in Liverpool as he'd hoped, paying taxes and again supporting local businesses.
So this blog post certainly isn't meant to suggest that other places are bad. Generally at the moment though if you want to work for a digital company in Liverpool your choices are to join a digital agency or go it alone. If you don't want to do this you'll probably need to work elsewhere. I also recognise that in all of the examples given the person is still working for a company based outside Liverpool. It's nice though to recognise that even at this early stage DoES is supporting local people and even changing their lives for the better. Hopefully in the future as people start building new businesses based out of DoES those businesses will expand and will start recruiting more and more people from the city who will no longer have to leave just to find a good job.
---
We also got some more news coverage recently, on Friday getting in the Daily Post for hosting the OpenLabs Developer Breakfast events, and an article 2 weeks ago that we only heard about because someone came into DoES for a look around, as a result of seeing it in the Metro. As it turns out that one was syndicated so we were mentioned all over the place!