Another Catch Up, Week 157
A month since my last update, I felt I had to post an update today though as it is in fact the third anniversary of the formation of my company, MKE Computing Ltd!
I'm intending to post a bit of a retrospective sometime over the weekend but thought I'd better update on the general stuff first.
Oh, one other housekeeping note, it seems that for the last few months of updates I've managed to mess up the week notes numbers, I first randomly added 3 weeks and then accidentally added 10! This week's update number was actually lower than the previous one a month ago. I've gone through the past updates and updated them to make sure they're right.
The biggest thing I've been "working on" recently is DoES Liverpool. In my last blog post I mentioned that we'd been finalising details of the bank account and the venue. We moved into our space shortly after, spent an intensive week decorating, cleaning up and laying out the space and opened to the public on the 18th July! We're really happy with how the space has turned out, we've got a lovely big open workshop space, a cosy little office space for more intensive working and concentration and then a bright meeting room for when people need a private area or are holding small events. Everyone that has visited so far has been really impressed with our set-up and it's regularly been compared to a Manhattan loft, we do have a great view onto the gorgeous 1880s built Stanley Building.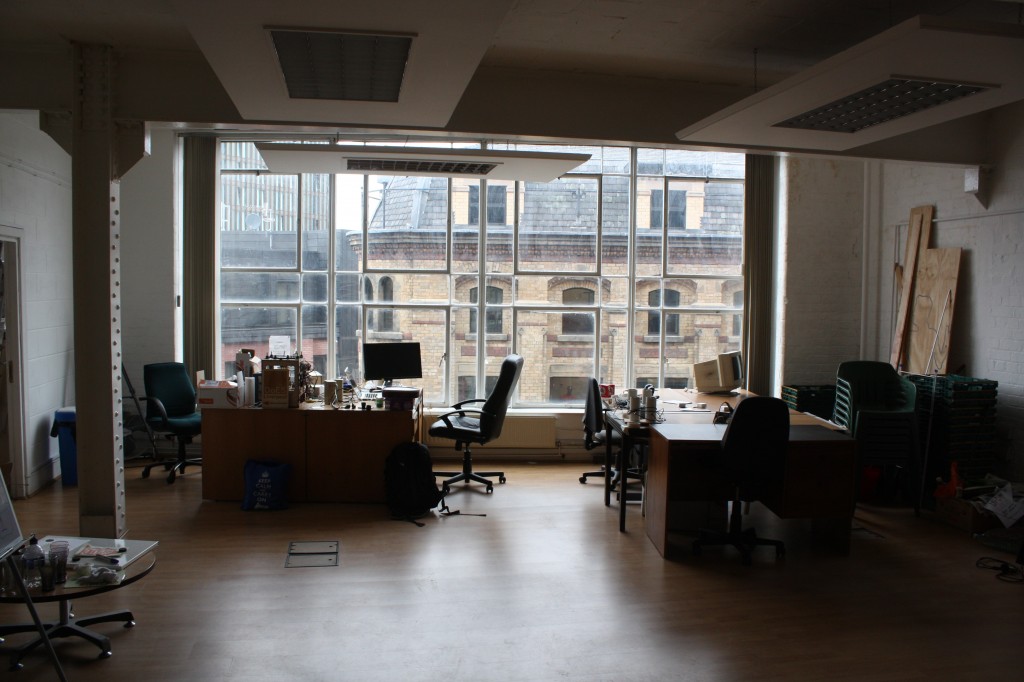 Since opening we've had various people coming through the doors, we had an open day on Friday 22nd which saw us get two write-ups in the Daily Post and this week we welcomed in another "permanent" desk user (as opposed to the various hot-deskers). Take a look at the website for more information about co-working, hot-desking and workshop space at DoES Liverpool though there's a few more posts up on the website for the Maker Night regular making events in Liverpool. (The DoES website is actually brand new so you may not see it yet while the DNS propagates but it'll be there soon)
Besides DoES I've actually been relatively quiet for client work. This has been useful for getting things done on DoES but I definitely need to start getting my hands dirty with code again. I've started looking at making some upgrades to my CamViewer iOS app and there's a few more client apps that should be kicking off soon.
I'll leave it there for the update but hopefully I'll get my "year notes" up soon to give a retrospective of what I've done in the first 3 years of MKE Computing Ltd.