More Bubblino & Friends, Week 144 (was 157)
This has been quite a short week due to the Easter bank holiday on Monday and the public holiday for the royal wedding today. I decided to spend the three days working on the Bubblino & Friends iPhone app that I built back in January.
Soon after January I talked to local artist and illustrator Sophie Green about her providing new artwork for the app and within a week or so she delivered some really nice pics for Bubblino, Pirate Parrot and another character that'll be new with this version. I also chatted to a voiceover guy who came up with some great quality audio for Pirate Parrot.
Unfortunately I then got busy and so nearly three months passed without progress. This week I've finally got going on it again and have made loads of progress. I've added the new character and new art throughout. There's a new tasteful tweet view UI and a nice simple form for building up advanced search queries that even searches using your phone's location.
The update is essentially done now so I can't wait to get it on the store, there's just one more feature I keep forgetting about and some testing to be done but hopefully in just over a week there'll be a new Bubblino & Friends available to buy on the app store!
Oh, and introducing my new robot friend: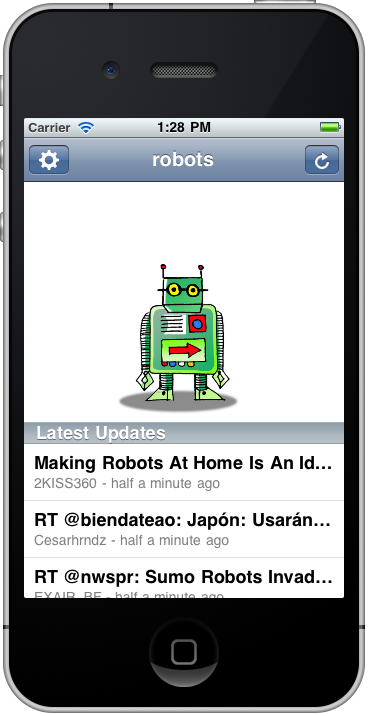 He's currently going by the name "Mr Roboto" but I'm open to suggestions for something better!
(The text for these weeknotes was all entered through a Kindle device. The screen is so great in the sunlight that I'm desperate to find ways to work on it. The keyboard is a little difficult so I may have to see if it's possible to use an external one.)