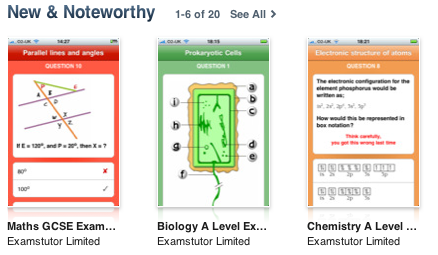 Last week I mentioned that we'd got the examstutor.com apps finished and submitted. This week they went live. Apple approved them all on Tuesday evening at which point they moved into the "Processing for App Store" state. Unfortunately it then took about 24 hours for all the apps to get through this stage as 6 of them ended up sitting there for ages. We finally got everything sorted out and put the apps live on Wednesday night. The apps have started selling straight away which is a great relief though not a huge surprise as the old apps were still selling ok. This is the first time in a while that I've had a free app on the store that I really care about the sales of so it's interesting to see how the "Login" versions are doing. Currently they're "outselling" the paid-for apps by way over 10 times but this isn't a huge surprise. It's good to see that people are interested though and hopefully some of those will convert to sales. Examstutor.com is now featuring the apps on the homepage and has a good set of pages describing the apps so it's no surprise to learn that existing subscribers are already downloading the free apps and logging into them. If you want to see more information then take a look at the iPhone apps section on Examstutor.com
Getting these 18 apps live actually took me to 47 separate apps live on the app store, which I like to think - even if some of the apps are just different content - is a pretty good number. Because the Examstutor.com apps are intended to replace the old "Revise" apps I have now taken the A-level versions of those down but I'm still at 36 live apps. 17 of my own (3 not available in the UK), 18 examstutor.com apps and one Credit Cards app I did for Moneyextra.com. Many of these may be repeated but if we ignore the repetitions that's 5 different apps I've got live on the store now and 3 others that are completed but waiting to go live for various reasons. Quite happy with my portfolio and hope I get to continue building interesting apps in the new year.
A quick update on my clock. I ended up deciding to bolt the motor onto the mechanism rather than using glue again. After various problems including broken drill bits I managed to get it secured and turning nicely. Unfortunately when I tried to get it working with the software it stopped working again. I'm now not sure if there's a problem with my circuit board or somehow there's a new problem in the software. I've had to leave it alone for a while though as I have other things to work on but hopefully I'll get it going eventually.
I've also been working on a brand new start-up idea that someone came to me with a few months ago. I'll be doing the bulk of the technical work including a Ruby on Rails back-end and supporting mobile apps. I can't really go into too much detail about it right now but it's hopefully going to be an interesting return to the location space for me. Watch this space for more info as things progress on that.