No longer a blue badge holder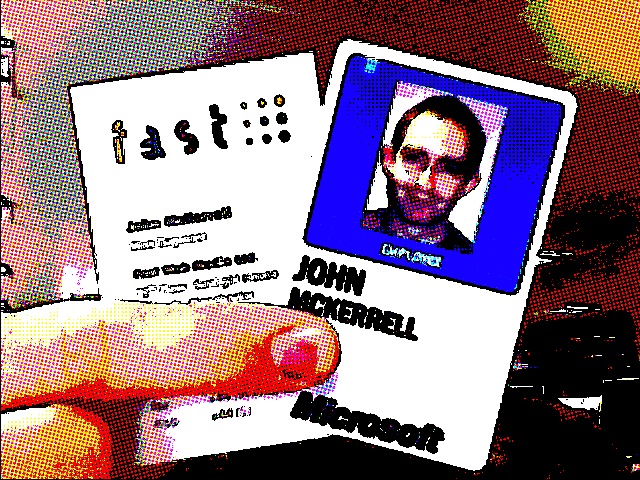 So I've left Multimap and I'm no longer a Microsoft employee, I have relinquished my blue badge and handed in my laptop. I've really enjoyed working at Multimap. The people I've worked with have all been friendly, incredibly intelligent and fun to be around. Not only has working with them been great, but the many times we've managed to meet up outside work has also been fun, including my wedding and stag do and lots of other occasions too.
Three years ago Fake Ed Parsons came to me in a dream and told me the secret to draggable maps. I knocked something up and then sent an email through to Multimap. Apparently the email was passed on to Sean Phelan, the founder of Multimap, who then passed an email around the senior management asking which of the following options they should use:
Tell me to stop

Sue me

or offer me a job
I'm obviously quite happy that they decided to go with the 3rd option! I worked for Multimap as a contractor for 6 months and then started working there full time at the end of September 2005. Since then I've worked on the API full time. Though I've written nearly all of the JavaScript in the API it wouldn't be much use without the work put in by others in the team to build the many great web services that it uses. "Tiling the world" to make sure we had map tiles and imagery in as many places around the world as possible was also a huge undertaking that went really well. I've spent the last month or so knowledge sharing and I'm confident that the people who will be taking on the API work from now on will have no problem. I'll also be doing contract work for Multimap in the near future too so I won't be completely hands off on it.
The photo above shows my blue badge before I handed it back but I thought it would be amusing to also show an old business card of mine with it. Before I started working for Multimap I actually worked for a Manchester web agency - Fast Web Media. When I started working there they were actually a subsidiary of "FAST Search and Transfer" and were working on a "soccer search engine". That project was eventually shelved but the company continued doing it's flagship Premiership football scores and news website and started taking on more client work. Though they were eventually spun out from FAST to be a separate entity, FAST continued to hold the largest single share in the company. Fast forward to now and we find that Microsoft has bought FAST. The sale appears to have gone through so now it seems that Microsoft will now own the largest share of my old company. This is a fact I'm thinking I should highlight to any potential companies that I might work with, every company I work for gets bought by Microsoft!