A few weeks ago I handed my notice in to Multimap. My last day will be Friday 18th July. While I've really enjoyed my time here I've decided that I want to branch out and try some new things. I've had the privilege of designing and building one of the most important products that Multimap has delivered over the past 3 years - the Multimap JavaScript API. Specialising in this way has been a great experience but I'm intending to broaden my horizons to cover more back-end technologies, which is where most of my previous experience has been.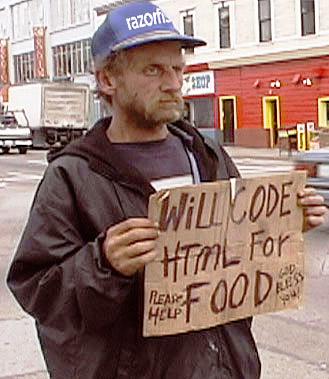 My intention is to start doing freelance work once I have completed my notice period with Multimap. I have arranged work with some good friends that should keep me pretty busy for the first few months after leaving but a large part of what I'm looking for in the future is variety so I will be very interested to hear from other friends who have interesting projects that they might like my help with.
Due to contractual obligations I may be looking to minimise the amount of geowanking I do for the first few months. Fortunately I do have five years experience in PHP, three years experience of intensive JavaScript coding and various bits of experience in Ruby on Rails and even a little Python. I also have good experience in setting up Linux-based web and database servers. I've been using and contributing to the interweb for something like 14 years, so yes, I do remember Netscape 1.0 (background images!), the launch of Yahoo! and the BBC's wonderful "list of interesting web pages". I was also putting music online when Shawn Fanning was probably sleeping peacefully in his dorm room, and I was doing it legally (I think)!
If you are interested in hiring me then you might like to take a look at my CV which you can find here (yes I know I need to replace the dodgy matrix). If you want to get in touch then you could try contacting me on my linkedin.com page, or just email me at my first name @ my surname dot net. If you're having trouble getting me then drop a comment on this page and I'll get in touch with you. I'm not looking to hear about a thousand unsuitable posts from agencies but if someone from an agency has something flexible to offer that's relevant and can fit in with my other obligations then that will be fine.

I will still be attending the State of the Map conference this weekend. I'm really looking forward to it and it promises to be a lot of fun. I will also be representing Multimap for the last time while giving a presentation on "Using Crowd Sourced Data in a Commercial API" which I'm hoping will be interesting enough for those that attend. If the conference is anything like last year though there will be plenty of good presentations to contend with.
Technorati tags: resignation, multimap, microsoft